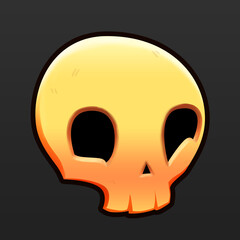 Max Heyder aka. Golden Skull
Freelance Lead Environment Artist (2D&3D) & Art Director
Berlin, Germany
Summary
Almost a decade of professional experience and 6 released titles.
Styles: handpainted cartoony, flat color & pixel art
2D: Concept Art, Texture painting, 2D Environment Art, Isometric Tilesets, Top-Down Tilesets
3D: lowpoly environment & props modeling, hand-painted textures
Skills
Concept Art
3D Modeling
Game Art
2D Art
3D Art
texture painting
hand painted
lowpoly
isometric
tileset
Software proficiency
Productions
Video Game

Wizards and Warlords

Year

2020

Role

Freelance Game Artist

Company

Valravn Games

Video Game

Hordes.io - open Beta

Year

2020

Role

Art Director

Company

Hordes.io

Mobile Game

Dreamworks Trolls Pop

Year

2019

Role

Lead Game Artist

Company

TreasureHunt

Mobile Game

Pet Paradise

Year

2017

Role

Game Artist (2D&3D)

Company

TreasureHunt

Video Game

Dimension Drive

Year

2017

Role

Lead Game Artist

Company

2AwesomeStudio

Video Game

MU Legend

Year

2017

Role

3D Environment Art Intern

Company

Visual Dart - Game Art Outsourcing
Experience
Lead Environment Artist at Pahdo Labs

Remote, Germany

Lead Environment Artist at Max Heyder Art - Golden Skull

Berlin, Germany

Outsource Lead Environment Artist, Consultant and Art Director for various indie productions.

My responsibilities:

Ideation and pre-production, project scope and budget planning, styleguidelines and workflow definition, onboarding of new artists, outsourcing workflows, production oversight and review, production velocity management, asset production from concept to implementation into Unity and Godot.

Lead Artist at Wargaming

Berlin, Germany

September 2020 - April 2021

Lead Game Art and Team Lead

Art Director & Lead Game Artist at Golden Skull Studios / MaxHeyderArt

Berlin, Germany

Self Founded Companies, Various Art for a multitude of Projects ranging from Concept Art to Game Art in 2D and 3D

Art Director at Hordes.io

Berlin, Germany

January 2019 - February 2020

Visdev and Asset creation for a browser MMO RPG.

Strong focus on performance optimization, modularity and asset re-usability.

Lead Game Artist at TreasureHunt

Berlin

January 2018 - February 2020

Managing and Mentoring an Art Team of 3 Artists, 2D Concept Art, 3D Game Environment Assets & Character Meshes & Costumes, Unity Technical Art: Particle Fx, UI Layouts, Scene Management, Texture Painting, Managing and reviewing Outsourced Content, Ownership and Responsibility of Art Style and Consistency

Lead Game Artist at 2AwesomeStudios

January 2015 - January 2017

Establishing the Art Style, Concepting and Production of 3D Art Assets, Implementation into Unity Engine, Level Environment Design and Optimization

Unity Tech Artist (Prototyping & Development) at Zoobe Message Entertainment

Berlin, Germany

October 2017 - January 2017

At Zoobe, I developed various prototypes with the Unity Engine for mobile.

The prototypes included: AR, mobile VR, Video Recording, Character Customization, Android & iOS development.

3D Environment Art Intern at Visual Dart

Seoul, Korea (South)

During my time at Visual Dart, I have learned industry workflows for modeling and hand-painting textures.

I had the great opportunity to work on various international titles including MULegend (http://mulegend.webzen.com/en/beta/teaser).